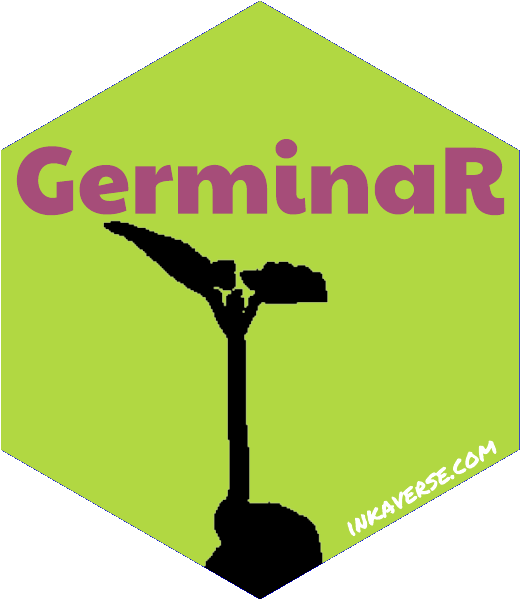 GerminaQuant
Source:
vignettes/GerminaQuant.Rmd
GerminaQuant.Rmd
GerminaQuant for R allows make the calculations for germination indices incredibly easy in an interactive web applications build in R (R Core Team, 2020), based in GerminaR (Lozano Isla et al., 2020) and Shiny R package (Chang et al., 2020). GerminaQuant app is reactive!. Outputs change instantly as users modify inputs. The principal features of the application allows to calculate the main germination indices, statistical analysis and easy way to plot the results.
App modules
The application is compound for different tabs that allow to make the analysis very easy.
Description of each module in GerminaQuant to evaluate and analyze the germination process.

| Module | Description |
| --- | --- |
| Presentation | Presentation of the package and the application with their principal characteristics and information |
| Fieldbook | Interface to upload the data from germination data and choose the parameter for the analysis. Allows to upload the data from google sheet or excel file |
| Germination | Table with the indices calculated from the germination data |
| Exploratory | Interface to explore your data and their distribution using boxplot graphics |
| Statistics | Interface to perform the statistical análisis according the experimental design. Allows to calculate the analysis of variance, summary statistics, mean comparison table and model diagnostic |
| Graphics | Plot the mean comparison table from the Statistics module. Allows to customized the results using bar or line plot |
| InTime | Plot the germination process in time selecting one of the factor from your experiment. Allows to customized the results using line plot |
| Tools | Tool for calculate the osmotic potential for any salt or PEG solution |
References
Chang, W., Cheng, J., Allaire, J., Xie, Y., & McPherson, J. (2020).
Shiny: Web application framework for r
.
https://shiny.rstudio.com
R Core Team. (2020).
R: A language and environment for statistical computing
. R Foundation for Statistical Computing.
https://www.R-project.org/